News from TCPS Alumni
Abhay Issar – Class of 2015
Abhay is a recent graduate from Town Centre Private Schools. He started attending TCPS in the 6th grade and graduated High School in 2015. After High School, Abhay continued his education at the University of Toronto and completed an Honours Bachelor of Science degree with a double major in Neuroscience and Psychology. Abhay has been accepted into the prestigious Michael G. DeGreoot School of Medicine at McMaster University. This program will commence in the fall of 2019 and Abhay is considering neurology and neurosurgery as possible specialties to pursue.
Congratulations to Abhay on impressive achievement. We wish him all the best as undertakes this next step on his path to a career in medicine.
Michelle Nguyen – Class of 2012
Michelle graduated from TCPS in 2012 after calling Town Centre home for 11 years. Continuing her studies at the University of Western Ontario, Michelle earned a Bachelor of Sciences specializing in Interdisciplinary Medical Sciences followed by a Bachelor of Nursing degree from the University of Toronto. Employed as a registered nurse at the University Health Network, Michelle works in a variety of medical and surgical units at Toronto General Hospital and Toronto Western Hospital.
The future for Michelle includes further education to obtain her Masters Degree in Nursing allowing her to pursue a more administrative role, teaching or becoming a nurse practitioner. We wish Michelle all the best!
Sawm Rad – Class of 2010
Having graduated in 2010, Sawm began his TCPS years in grade 6 and studied with Town Centre through to his graduation from grade 12. He continued his studies at York University and earned a Bachelor of Arts with Honours.
Today Sawm is working at a division of International Magna as both a Quality Engineer and Supplier Quality Engineer. His current goal is to advance in his current career path as opportunities present themselves.
We wish Sawm all the best in his future endeavours.
Adrian Alexei – Class of 2008
Adrian Alexei enrolled at Town Centre Private Schools in 2003 joining the senior elementary program. Continuing into the high school program, Adrian graduated in 2008. With an interest in computer technologies, Adrian pursued a post secondary education at the University of Waterloo where he obtained a Bachelor of Computer Science degree. Currently residing in Seattle, Washington, Adrian is employed as a Senior Software Engineer at Facebook.
Congratulations to Adrian for securing a position at one of the world's largest distributed storage systems in the world. We wish Adrian all the best for his future in Seattle!
Allison Hunter – Class of 2014

Allison was a long time student starting her Town Centre education in the first grade program in 2002. An avid curler, Allison was the High School Curling team skipper (captain) her final year. Upon graduating, Allison attended the University of New Brunswick to pursue a Bachelors degree in Business Administration. Allison is currently employed at a public accounting firm. She is considering returning to school to obtain her Chartered Professional Accountant certification and possibly a Masters in Business Administration.
We wish Allison all the best in her future endeavours.
Shara Nauth – Class of 2010
After attending Town Centre Private Schools for 6 years, Shara graduated in 2010. Shara continued her post secondary education at McMaster University obtaining her Bachelor of Health Sciences degree followed by a Medical Doctorate from the Faculty of Medicine at the University of Toronto. Shara is currently in her 2nd year of an internal medicine residency at the University of Toronto. Shara's future goals include specializing in geriatric medicine and she will be applying for her fellowship in 2020.
Congratulations to Shara on her accomplishments.
Kimberly Pereira – Class of 2013
Kimberly started her education at Town Centre Private Schools in 2001 when she entered our grade 1 program. Following graduation from grade 12, Kimberly went on to study at the University of Ottawa where she acquired an Honours Bachelor of Arts degree majoring in Psychology. She continues to study at Algonquin University and is currently working towards certification in Project Management. Upon completion of this program, Kimberly's goal is to secure a position in this particular field.
We wish her all the best.
Adam Yhap – Class of 2013
Currently in his second year of the Bachelor of Education degree at Western University, Adam had the opportunity to complete an Alternative Field Experience as part of his training. As an IB World School, TCPS was able to provide Adam with a unique IB learning experience observing Ms. Mathew's grades 7 and 8 Science classes. "..with the IB Programme I noticed there was a focus on helping students to develop a global perspective in their thought process and application of knowledge. This was something that stood out to me, where students took the knowledge they acquired in Science and thought about how they could apply what they learned in reference to the rest of the world." Specializing in international education, Adam's goal upon graduation is to teach at international schools in a variety of countries. "I had a wonderful experience and really enjoyed my time being back at Town Centre. I will take the skills I learned to help guide and improve my teaching practice in the future. "
Andrew Meehan – Class of 2013
Andrew grew up at Town Centre starting his education in our Pre-School program in 2000. An active participant in all aspects of the TCPS community, Andrew excelled at sports and played on numerous of the school's competitive sports teams. Equally at home on the stage, Andrew was a predominant actor in our annual High School plays. Andrew is currently continuing his studies at the University of Ottawa working towards a Masters of Science and Human Kinetics. Upon graduation in 2019, Andrew plans to continue studying medicine in Canada and abroad. We wish Andrew all the best in his future endeavours.
Tristan Frenette-Ling – Class of 2010
T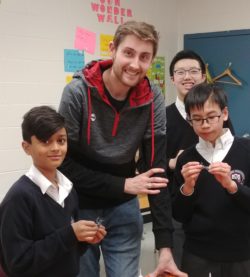 ristan Frenette-Ling began his time at Town Centre in the Elementary program and graduated from Town Centre in 2010. Tristan's family has a long history with the school as Tristan's sister and twin brothers also having attended TCPS. Following graduation, Tristan attended Trent University to study Science but decided to switch to Business and Economics. While in university he joined a small gaming community at the local comic shop and fell in love with table top gaming and board games. As an entrepreneur, Tristan took this special interest and turned it into a career. For the past 2 years he has been part the TCPS team bringing his creativity to the Miniatures Painting After School Course at the Main Campus. "It's not really a surprise to me to return to Town Centre in some way after all these years. The truth is part of me has never left and when I walk around the halls I feel like I will always belong here. I have a passion for teaching as well, so instructing this After School Course made sense! "
To learn more about miniature painting, visit Tristan's Web site at http://www.fourrealmsofchaos.com/.
Simon Yoo – Class of 2008 Returns to TCPS
Simon Yoo graduated in June 2008 and attended McMaster University for the 2008-2009 academic year. He would later transfer to the University of Waterloo and graduated from the Kinesiology program at the University of Waterloo in 2013. After discovering a passion of teaching, he began teacher's education in 2015 at OISE University of Toronto. Since then, he's been a teacher in England and local international schools. In the fall of 2017, Simon Yoo returned to Town Centre Private Schools joining the staff as a High School Chemistry / Science teacher. A source of inspiration and popular with the students he now faces new challenges with daily classroom activities working along side his former teacher that are now his peers. He is a proud alumnus of TCPS and can't seem to leave these fond high school memories behind. We wish him luck as he makes new memories of high school as an educator leading future generations to success.
Luca DeBlasis – Class of 2010
I hope all is well with you guys. When we spoke last, you mentioned that you wanted me to keep you updated on what I've been up to, and some folks in the main office were interested in having me back for career day, etc. Since I came by in January, life's done a bit of an about-face (in the best way possible). I was slated to begin work in brand management at L'Oreal Canada's main HQ in Montreal in May, but I remember mentioning that I was also going to China for a competition.
Long story short, I ended up winning that competition and out of 10,000+ teams I'm now in the Global Finals (Top 6) of the Hult Prize (we're under 'Shanghai'), which is the world's largest social entrepreneurship competition, run by Hult Business School and the Clinton Global Initiative. In September we will be pitching our idea – which revolves around combating non-communicable diseases (NCDs) in urban slums – for $1mm in seed funding from President Clinton, Mohammed Yunus, and others.
To give you a brief overview, our business, called REACH Diagnostics, revolves around using simple urinalysis tests as a screening and monitoring tool for urban slum dwellers suffering from diabetes.
Just thought I'd give you guys a heads-up as to what's going on. Any successes that I've achieved and will achieve are a direct result of the great educational foundation I've had, and over 14 years, TCMS/TCPHS played a vital role in my formation.
Let me know if you have any questions. Looking forward to hearing what's new at the school and the initiatives you guys are launching!
Best,
Luca De Blasis
Co-Founder & Chief Financial Officer, REACH Diagnostics
Ameen Basha – Class of 2013
Ameen is entering his third year in the Bachelor of Health Sciences (BHSc.) program at the University of Calgary. When he left Toronto, he was considering a career as a physician. He believed that a career as a physician would be devoid of innovation and discovery. But after arriving in Calgary, and progressing through the BHSc program, he decided to strive towards a career as a physician-scientist. Physician-scientists carry both a medical qualification and a scientific doctorate; they focus on conducting translational research focused on bringing therapeutic techniques from the laboratory bench to the ward bedside. A career as a physician-scientist appealed to him as he could simultaneously treat patients and engage in medical research.
For the last two years, he has worked at a medical research laboratory in Calgary, AB. Currently, he is conducting his own clinical research project to investigate the brain blood flow and breathing responses to low-oxygen high-carbon dioxide breathing environments in obstructive sleep apnea (OSA) patients. Apart from this OSA project, he is involved in projects focusing individually on the cerebrovascular effects of intermittent hypoxia and the neurophysiological impact of aerobic exercise in older adults. Also, he completed laboratory observership rotations in the areas of high-altitude physiology and cardiovascular physiology. His scientific knowledge is primarily in integrative human physiology, with additional expertise in sleep medicine, cardiovascular physiology, critical care medicine, neurological imaging, and exercise physiology. In the future, Ameen will aim to apply his existing knowledge to better elucidate the biological mechanisms governing cerebral circulation in humans. Through independent investigations of hemodynamics, respiratory physiology, and vascular biology, Ameen intends to identify the key regulatory pathways of cerebral blood flow. His work will hold strong implications for the prevention and treatment of cerebrovascular disease.
Ameen's immediate goal is an acceptance to a combined MD-PhD program; the University of Calgary Leaders in Medicine program offers an excellent opportunity in this regard. Ideally, his career would consist of administering clinical care, conducting research in a laboratory, and teaching students at an academic institution.
TCPHS is proud of Ameen's incredible accomplishments in the years since he has graduated. We look forward to hearing more about how Ameen's career continues to progress.
Brooke Porter – Class of 2015
Last June, Brooke graduated from TCPHS and accepted Western University's offer of admission to their Bachelor of Music in Vocal Performance programme. In a conversation with her TCPHS Director of Alumni, she underscored some of the benefits of her studies at Town Centre. As an Arts Stream student, Brooke excelled in subjects like English, History and Geography. She aced her Advanced Placement (AP) exams in all three subjects and now benefits from making the most of Town Centre's Arts Stream programme. Western University translated her AP credits into two full-year credits, the equivalent of two full-year courses or four half-year courses. As Brooke explained, "there is no doubt in my mind that AP was hard but totally worth it. University is a lot harder than high school, but because I put hard work into AP, university is a little less stressful." She also thanked her teachers for the support they provided during her studies. We thank Brooke for taking the time to update us on her experience since leaving TCPHS. One day we hope to hear Brooke perform.