Clubs and Organizations
At Town Centre Private Schools the High School students have the opportunity to join and participate in a variety of extracurricular clubs and organizations to round our their High School experience. The following club and organizations are available during the 2020-2021 school year.
STRIVE
(Students Taking Responsibility and Initiative in Volunteering Everywhere)
TCPS is especially proud of this unique club consisting of dedicated students who strive to make a positive difference in the world. The main goal of STRIVE is to raise the standard of living for children and students around the world. STRIVE is based on the "Kids Helping Kids" concept. In addition to the members volunteering their time with local organizations, the club also organizes a variety of fundraising events for selected charities.Thank you to all the students who participate in the various fundraising events throughout the year.
DECA
DECA is an innovative, experiential learning program that is designed to help students learn more about business. By role-playing, examining case studies, participating in business scenarios and making presentations, TCPS students learn how to apply the skills they've learned in business studies to the real world. Students participate in a variety of contests that test their knowledge of different subjects, including accounting, entrepreneurship, leadership and management, international business, marketing and merchandising, and information and communication technology.
Students also have the opportunity to compete, either as individuals or in small teams – some choose to do both. Competitions combine a written test with a timed scenario, where students apply their knowledge and present a plan of action to an experienced business teacher. Regional competitions are held in the Fall, provincial in the Spring.
"Today's businesses require teamwork, consensus building, decision-making, interpersonal skills, and goal orientation. While business organizations value cooperative effort, they also demand independent thinking. DECA seeks to transform students into team workers who recognize that their own success depends on the success of others. By giving students hands-on experiences in the fields of marketing, business and entrepreneurship, DECA enhances the classroom experience by providing conferences and competitions that mold high school students into character-driven leaders." – DECA Ontario
House Council
At TCPS our House system is growing! To reflect this, we've made a few changes that we're excited about. To start, the organization formerly known as the Student Activities Council will now be known as the House Council.The first component of House Council consists of a President and Vice-President. Both of these are senior students who demonstrate a willingness to get involved and who are dedicated to both their studies and the school. These positions are appointed during a school-wide election in which all grade 9, 10, and 11 students will vote. (Graduating grade 12 students do not take part.) Students can apply for either of these positions in May and must receive approval from the high school administration before they begin campaigning. Voting will take place near the end of May.
House Council will also include 6 House Representatives. Each of the 6 houses will choose one representative to take a seat on the Council. This student can nominate him/herself or can be nominated by another house member. Nominations and voting will take place during the first House meeting in September. What exactly does a House Representative do? They attend all school events and weekly Council meetings. They represent the school and their House responsibly. They help organize and staff all of Council's events, act as a liaison between students and staff, and take on a leadership role in House meetings.
In addition, each House will name a Spirit Representative. As above, this student may nominate him/herself or be nominated by another house member. Nominations and voting for this position will also take place during the first House meeting in September. A Spirit Representative should be enthusiastic, inclusive, and friendly. S/he will promote school spirit! This person will also act as a liaison between students and House leaders or staff. S/he will attend all school events, help organize and staff all Council events, and if the House Representative is absent, attend weekly Council meetings in his or her place.We welcome all students' involvement and look forward to a year that is better than ever!
Yearbook Club
Members of the Yearbook Club help capture the daily moments of TCPS life and memorialize them in the pages of the yearbook. The members of the Yearbook Club are involved in photography, photo editing, article writing, and designing the format and layout of our annual publication. The club offers students an ideal opportunity to develop their experience in design, publishing, and project management. Members are responsible for communication between students and teachers to ensure that photographs, articles and surveys are submitted in a timely and efficient manner. Each year again, the Yearbook Club proves to be one of the more popular clubs at TCPS because it offers such a rich and diverse range of activities to our high school students.
Prom Committee

The TCPS annual prom celebrates the accomplishments of the graduating class. Prom Committee members oversee the planning and organizing aspect of the prom including developing a theme, designing and making of the decorations, planning the menu and organizing the music for the gala event of the year.
This event is undertaken with staff advisors and the generous contribution of TCPS' art students whose efforts create a memorable dinner and dance for the graduating class.
International Outreach Program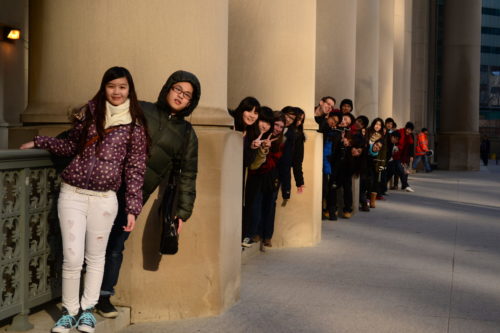 Town Centre's International Outreach program is designed to provide our international student population with the opportunity to become confident and involved members of the school community. An extracurricular group, the program will allow students to improve their conversational skills through a variety of games and activities. Students will also have the opportunity to work with peer mentors. In addition to being able to improve their English language skills, international students will take part in field trips to various locations throughout the city that have been designed to introduce them to life in Toronto.