Trips
Day Trips
High School students enjoy a variety of trips and have activity day outings throughout the year.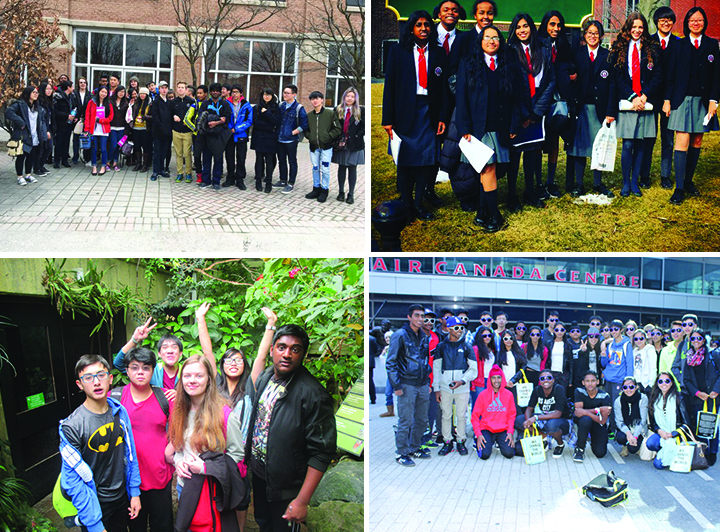 Grade 9 Outdoor Leadership Trip
Each September the grade 9 students spend 3 days at a leadership conference centre in the cottage country of Northern Ontario. The purpose of this educational experience is to provide an opportunity for the first year high school students to get to know their new classmates and teachers in an informal and exciting outdoor setting. The program is designed to promote leadership skills, teamwork, with a strong emphasis on ecological awareness.

"The Grade 9 leadership trip was what I expect, and more. From the moment we arrived at Bark Lake and seeing the surrounding crisp cool forest setting we were able to enjoy the beauty of the outdoors. We were divided into three groups, which really helped us get to know each other very well over the next 3 days.
Grade 9 students share their experiences.
"To say that I merely enjoyed Bark Lake would be quite an understatement. This trip was definitely one of the highlights of my entire year here… and it happened only 3 weeks into school! For just 3 days I had done things that I never had thought I would do in my whole life. I climbed 8 foot poles, I canoed for 2 hours and I spent 3 whole days without technology. Now I must admit that the last one, was a hard one for me; however, being without a device really enhanced my experience at Bark Lake. I learned so many things about the classmates that I had been with for years. This trip was comprised of moments that I will never forget in my entire life and I am so very fortunate to have been able to experience it. For anyone who ever decides not to spend 3 days with their friends in the middle of nowhere, really must evaluate their decision because truly, this trip was a memorable one that will stay with me forever." – grade 9 student

"My favourite activities had to be the night hike, the bonfire and canoeing. During the night hike we were amazed at how our eyes adjusted to the darkness allowing us to see. Because of the rain the bonfire was improvised, as we moved indoors and sat in front of the warm fireplace, and performed hilarious skits. It was great to see everyone together having so much fun. For me personally, archery was the highlight. I discovered a skill that I never knew I had. This trip was a wonderful experience and a great introduction into grade 9 at TCPS." – grade 9 student
"The grade 9 leadership trip was a great new experience for me. Each day was very exciting and filled with many enjoyable activities.
We enjoyed showing off our archery skills, paddling in the canoes, and challenging the low and high ropes. We participated in the "Leadership Olympics" and we really enjoyed the amazing nature all around us. A highlight for me personally was the series of tug of war games, especially our surprise victory!
I really enjoyed this trip. It provided me with valuable insights about my teachers, my classmates and my friends." – grade 9 student
International Trips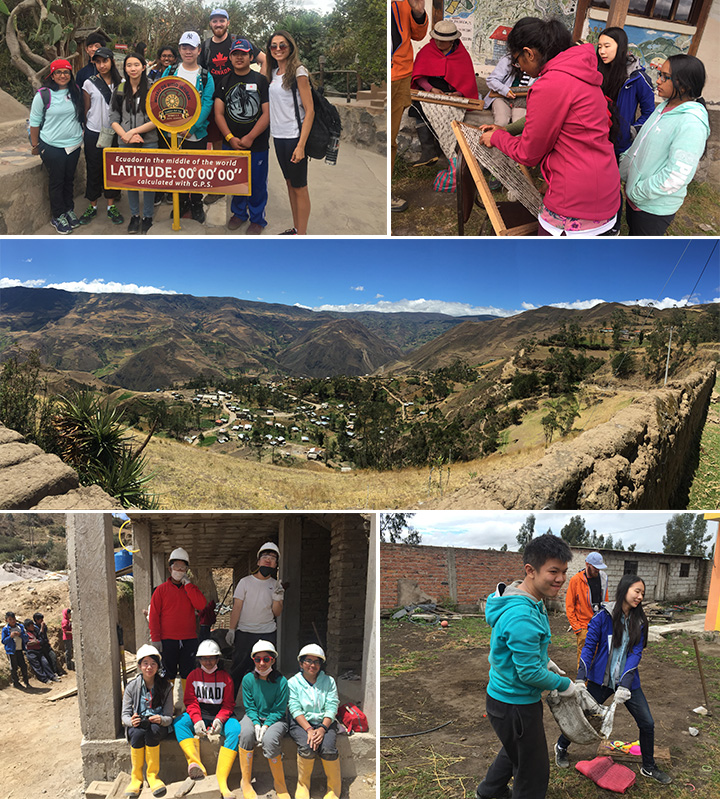 Eight TCPS students and 2 staff members completed a 10 day visit to Ecuador in August 2016. Working with ME to WE our students broaden their perspective on the world as they explored a new culture and volunteered on sustainable development projects, working side by side with local communities.
On the first day of their visit students and staff enjoyed a walking tour through old Quito learning a great deal about the culture, different churches and political places in Quito including a visit to the Equator Museum. In the evening, the group visited a local restaurant and sampled the traditional cuisine. On August 3rd the group embarked on a scenic drive to Chimborazo where they volunteered in a community called Shuid, helping build and complete classrooms for students to attend high school. What a great opportunity working alongside many members of the community who will benefit from the high school. Evenings where spent at Pircapamba Lodge, their home away from home, relaxing from the days' work and enjoying delicious food. The morning of August 5th was spent at the build site and in the afternoon students met an amazing group of girls in Gulaghuayco. The girls taught students how they make their beautiful hair bands and bracelets. Saturday, August 6th was a full day at the build site; everyone worked hard sifting material, mixing lots of cement and paving some walls. On Monday they visited a local market and bought produce. It was a good opportunity to try to use some of the Spanish they had been learning and to better understand daily life for the community. After the market, they helped a Women's Group member with daily chores. It was a very rewarding experience. The TCPHS group spent that afternoon with the rest of the Women's Group and sheered a sheep using scissors! On the way back home they stopped to visit the first Catholic church ever built in Ecuador. The TCPHS team arrived safely back in Toronto on August 10th eager to share stories, souvenirs and photos from their adventure. This trip was a rewarding and unforgettable experience for both students and staff.
ME to WE has been facilitating volunteer trips overseas for the past 14 years taking more than 6,500 youth to various countries including Ecuador, Kenya, Nicaragua, and the Dominican Republic to mention a few. ME to WE is partnered with the international charity, Free The Children. Projects are exclusive to Free The Children's Adopt a Village program and are driven by the local communities and local needs.
Over the March break 2015, TCPS students and staff members headed to Toronto Pearson International Airport to catch their flight and begin their European adventure. The 11 day tour included Germany, Czech Republic, Slovakia, Poland and Hungary. The exposure to different cultures, cuisines and history was unforgettable. The group returned home on the evening of March 22nd with many fascinating stories to share about their time abroad.
One of our grade 9 students shares her memorable experience below.
The 2015 Europe Trip was lots of fun. Travelling all over Eastern Europe was a great experience and, given the opportunity, I'm sure we'd all love to go again. We started in Berlin, Germany where we visited Checkpoint Charlie and had some delicious currywurst. We then had a quick stop in Dresden, dubbed "Drizzledon" due to the rainy weather before making our way to Prague in the Czech Republic. We saw the famous Golden Lane as well as the Astronomical Clock which was incredibly detailed. Krakow, Poland was our next stop and we honoured the victims of the Holocaust by writing reflective poetry after visiting the site of Auschwitz. Our second to last destination was Budapest, Hungary. Some of us visited the Budapest baths while others roamed the beautiful city, enjoying the warm, sunny weather. The final and unexpected city we visited was Frankfurt, Germany. We enjoyed a sing off with another school on the bus. The journey we had taken was interesting and entertaining, full of fun and great memories. We hope that we'll be able to travel around Europe again in the near future!
Central Europe March Break Trip: Day in Review
The following day in review videos highlight some of the best moments on the Central Europe Trip, 2015.
2012 Trip to Italy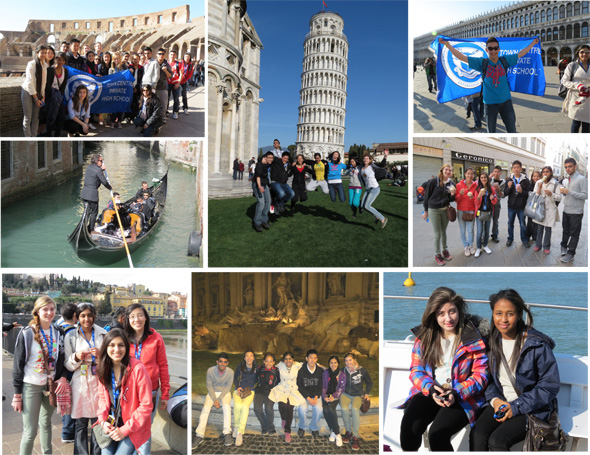 Buon Giorno" (Hello). March Break was an incredible adventure for the high school students who were excited to travel to Europe and experience first-hand the history, sights, food, Italian culture and fashion! During our 9 day whirlwind excursion we enjoyed the expert services of our private Italian tour guide, Sandro. Our adventure began in Milan where we boarded our bus and travelled to the beautiful walled city of Verona, the setting for Shakespeare's Romeo and Juliet.
As we travelled through the breathtaking countryside, our guide kept us constantly informed and pointed out the different vegetation and architecture. Our next stop was Venice where we spent 2 amazing days exploring the canals and bridges. While some of us might have enjoyed steering the gondola, we thoroughly enjoyed the gentle ride through the narrow canals. It was fascinating to look up at the people strolling along the canal pathways, wondering what would be around the next channel! At Saint Mark's Square, with the pigeons and all the different shops, the students especially enjoyed the exceptional fashion.
A trip to Venice must include an excursion to Murano Island where we had an opportunity to watch the world famous hand-blown glass manipulated and perfected into wonderful pieces of art. What a memento to bring home!
We continued on our journey and enjoyed a sunny afternoon in Pisa; of course we imagined ourselves holding up the leaning tower. Our next stop was Florence where medieval and renaissance architecture abounds. The highlights, including the Cathedral and The Palazzo Vecchio (Town Hall), the winding cobblestone streets complete with entertaining buskers and mimes, will not soon be forgotten. With so much to do and see, by the end of the day we were exhausted and happy to say "buona notte" goodnight!
A wonderful day in the hillside town of Assisi preceded 3 days in Rome where we visited the Vatican and were overwhelmed with the fabulous paintings and sculptures, the Forum, the archaeological site of Ostia Antica and, of course, the Roman Coliseum where we could imagine the gladiatorial battles!
We had the most memorable time on our March Break. Grazie (thank you) for the daily educational excursions, the free time spent visiting museums and exploring the city centres, sampling the famous pizza and gelato, and the shopping! We arrived home exhausted but already looking forward to the next opportunity to travel abroad. Ciao! Thank you for sharing your beautiful country with us.