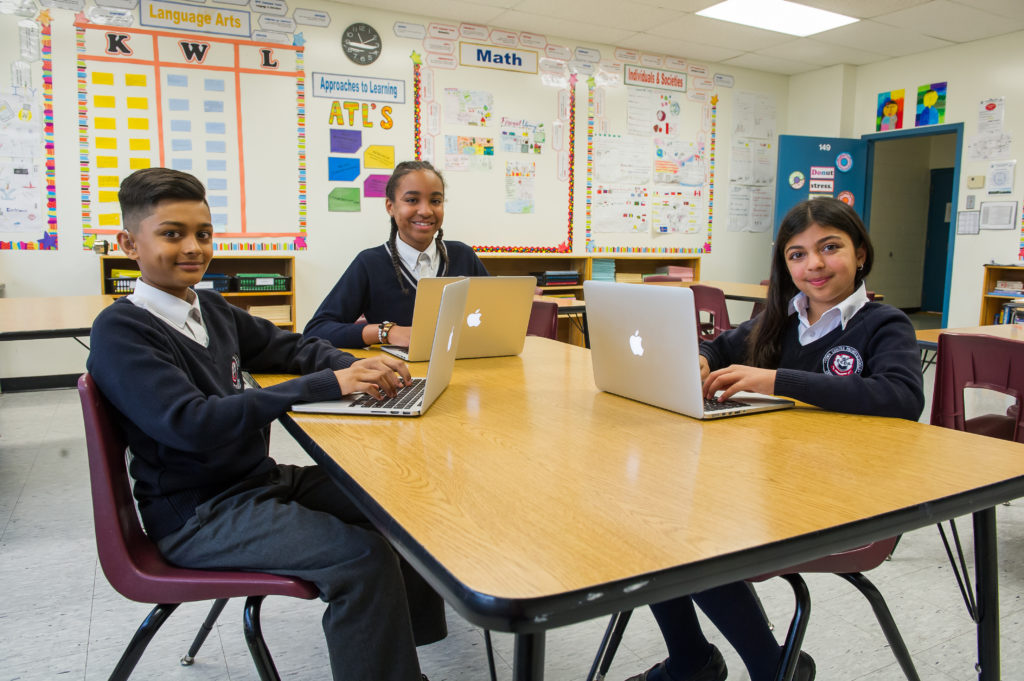 TCPS recognizes the importance that technology offers to students and has invested in three key areas that we have seen tremendous improvements in the classrooms; infrastructure, devices and software.
Infrastructure for Today and Tomorrow
We've built a custom 10-Gigabit-per-second ("10Gig") Wi-Fi 6 compliant wireless infrastructure for our classrooms, computer labs and auditoriums/gymnasiums. This will allow our students and schools to grow exponentially without limitations to devices, in accessing online resources, streaming and video chatting with schools and colleagues from around the globe, and taking advantage of 21st Century learning with online applications and workflows.
The Right Tools
Our students have access to a 1-to-1 device program that takes advantage of our "10Gig" infrastructure allowing for students to access content from various devices with ease.
Building the Foundation in the IB Primary Years Programme
Grades 1 through 5 have access to iPads, Chromebooks and Laptops which cater to different experiences in the classroom and allow students to expand creativity, explore more immersed studies and publish their work assignments. Students are instructed on the basics of navigating a computer and by grade 2 are comfortable with touch-typing and are expanding their knowledge of computer operations.
With iPads, students traverse the globe using touch-interfaces and the Google Earth App. Students can experience landscapes, cities, forests and/or bodies of water through street view as though they were standing right there. This has expanded our Geography, History and Social Studies in the classrooms with greater effect. We see this furthered beyond the classroom at home.
Chromebooks and laptops allow the students to access education Apps that compliment their continued studies and focus on professionally designed presentations, documents and has enhanced their access to resources.
Advancing through the IB Middle Years and IB Diploma Programmes
Our grades 6 through 12 students benefit from a 1-to-1 dedicated laptop program where students are encouraged to use their devices throughout their learning objectives; research, design, presentations and collaborative learning with other students and teachers. Students in High School may also compliment their learning and organizational skills by allowing access to their mobile phones for managing their calendars, events and extracurricular activities. We encourage safe and practical use of their mobile devices.
Accessibility and Accountability
Our Learning Resource Centre instills best-practices and promotes online digital citizenship where students are encouraged to access online content while remaining conscious of their privacy and of others while learning to recognizing true and reliable content versus untrue, unsafe and unreliable data. Through this program we've seen a great benefit with students adopting technology and using it safely.
Software to Grow with the Students
All students have access to devices and Apps available across our rich device experience. As students expand their educational careers, we offer much more robust software that they will also see in real world applications. Grade 5 students are introduced to email and cloud-storage solutions using Microsoft Office365 and we introduce more advanced applications through Office365 as the students excel into grade 6 and above.
TCPS recognizes that preparing the students for what the markets demand as incumbent skillsets, as such we have partnered with Microsoft to deliver professional applications, Adobe Systems for design and presentations, audio and video recording, editing and production. Students are eager to learn with these tools that they recognize from their counterparts on social media and video platforms such as YouTube and are able to quickly grasp and build upon technological fundamentals.
Help is Always Close at Hand
To assist students with any software questions or technical issues they may encounter, TCPS has two full time IT staff with an open door policy who are available to provide support as needed.