Campus Locations
Town Centre Private Schools' Pre-School Montessori, Elementary and High School programs are offered at 3 campuses which are conveniently located within a 3 minute drive of each other on the border of Toronto and Markham in York Region.
Amarillo Campus
Located just west of the Kennedy Road and Denison Street intersection at 76 Amarillo Avenue in Markham.
This beautiful 33,000 square foot

facility is custom designed for Pre-School and Grade 1 classes.
Campus Features:
Bright spacious classrooms
Two large Gymnasiums
Computer, Music and Art Labs
Large enclosed playground and sports field area
Custom built, child-size washrooms, accessible directly from the classroom for younger students
Main Campus
Located at 155 Clayton Drive in Markham, Clayton Drive is located west off Kennedy Road first set of lights north of Steeles Avenue, our Main Campus is for students enrolled in grade 2 to grade 12.
This educational facility is over 80,000
square feet and offers the prospective
student a multitude of educational opportunities.
Campus Features:
Bright spacious classrooms
Ballet and Art Studios
Science and Computer Labs
Two large Gymnasiums
Large enclosed outdoor sports
fields and playground area
Milliken Campus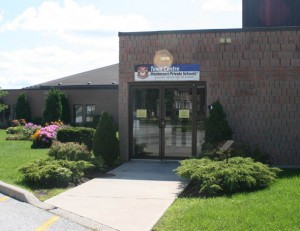 Located just north of Kennedy Road and Steeles Avenue at 3 Clayton Drive in Markham, this 11,000 square foot facility provides a low student to teacher ratio for our ESL High School classes.
Campus Features:
Bright spacious classrooms
Large Gymnasium
Providing a safe and secure teaching environment is of the utmost importance at TCPS. Our campus security measures include the following:
All campuses are equipped with surveillance cameras.
Students are escorted by their teachers between classes and are supervised by their teachers during their outdoor activity time.
Students remain in their classrooms during the before and after school programs. Parents pick students up directly from the classroom.
Students will only be released to those individuals specified by the parent as being authorized to do so.