Pre-School Summer Camp

Discover our Pre-School Camp!
June 28th – August 27th
Register Weekly
Welcome to the TCPS Montessori Pre-School Summer Camp. At Town Centre Private Schools we have a fun filled summer for our pre-school students starting as young as 18 months. Numerous activities are scheduled to incorporate academics and fun into a well-rounded, complete day for the campers.
Students may enrol for the half day or full day program and students over 3.8 years of age have the option of attending 3, 4, or 5 days per week. Parents may register weekly, from 1 to 9 weeks.
The Summer Camp hours are 9:00 a.m. to 3:30 p.m. a before school program (7:00 to 9:00 a.m.) and after school program (3:30 to 6:30 p.m.) are included with tuition.
If you have any questions about our registration process, please contact us at info@tcmps.com.
Kid's Kitchen
During our 9 week Summer Camp program, we will continue to offer our Hot Meals program catered through Kid's Kitchen. Kid's Kitchen is a renowned catering company for schools and is located right here in Markham. The Kid's Kitchen Hot Lunch program is a specialized lunch and snack service for school children. Lunches and snacks are prepared fresh daily by Kid's Kitchen and delivered to the school. Parents simply order online at www.kidskitchen.ca from a 4 week rotating menu complete with a nutritional morning snack, hot lunch and afternoon snack.
Please note that the Hot Lunch program is mandatory for our Toddler, Pre-Casa and Casa students.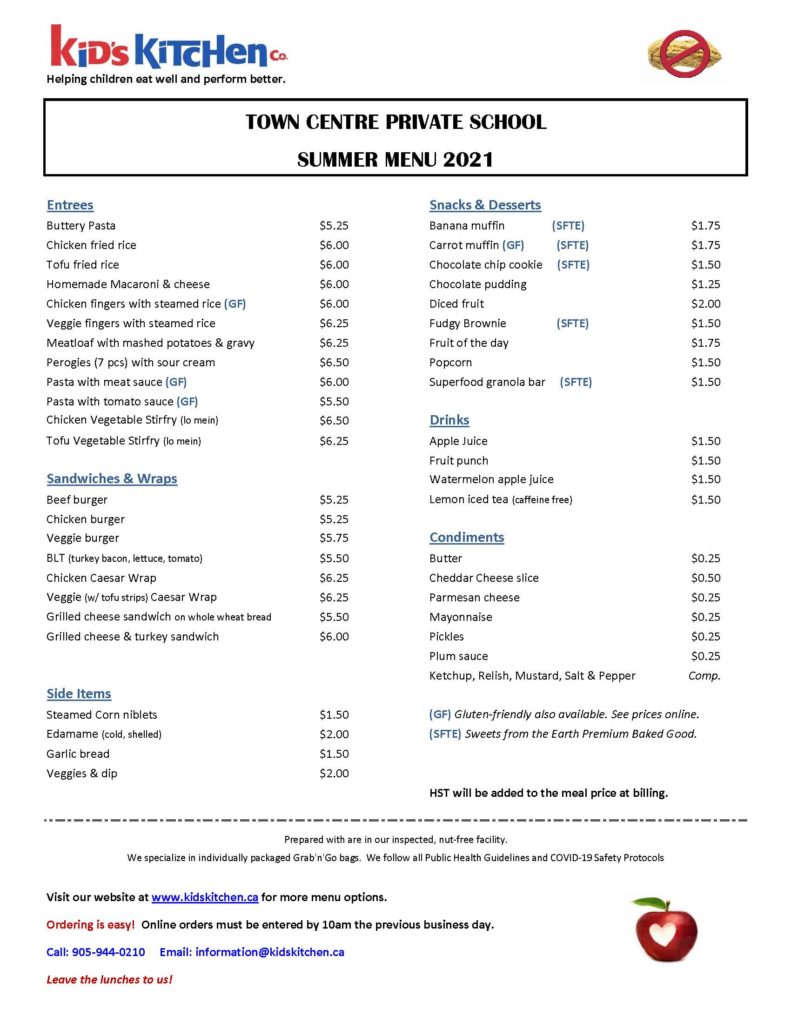 It is our aim to offer a summer program that will build upon student experiences at school and at play, as well as offering opportunities for students to share their talents. We are sure our campers will make lots of new friends and take home lasting memories!
2021 Pre-School Summer Camp Weekly Fees
Toddler (under 2.5 years of age)
| | | | |
| --- | --- | --- | --- |
| Duration | 5 days/wk | 4 days/wk | 3 days/wk |
| Half Day (9:00 a.m. to 12:00 noon or 1:00 to 3:30 p.m.) | $215 per week | n/a | n/a |
| Full Day (9:00 a.m. to 3:30 p.m.) | $350 per week | n/a | n/a |
Pre-Casa (2.5 to 3.8 years of age, not toilet trained)
| | | | |
| --- | --- | --- | --- |
| Duration | 5 days/wk | 4 days/wk | 3 days/wk |
| Half Day (9:00 a.m. to 12:00 noon or 1:00 to 3:30 p.m.) | $200 per week | n/a | n/a |
| Full Day (9:00 a.m to 3:30 p.m.) | $335 per week | n/a | n/a |
Casa (2.5 to 3.8 years of age, toilet trained)
| | | | |
| --- | --- | --- | --- |
| Duration | 5 days/wk | 4 days/wk | 3 days/wk |
| Half Day (9:00 a.m. to 12:00 noon or 1:00 to 3:30 p.m.) | $190 per week | n/a | n/a |
| Full Day (9:00 a.m to 3:30 p.m.) | $315 per week | n/a | n/a |
Preparatory and Senior Preparatory (over 3.8 years of age)
| | | | |
| --- | --- | --- | --- |
| Duration | 5 days/wk | 4 days/wk | 3 days/wk |
| Half Day (9:00 a.m. to 12:00 noon or 1:00 to 3:30 p.m.) | $185 per week | $165 per week | $140 per week |
| Full Day (9:00 a.m to 3:30 p.m.) | $310 per week | $280 per week | $235 per week |