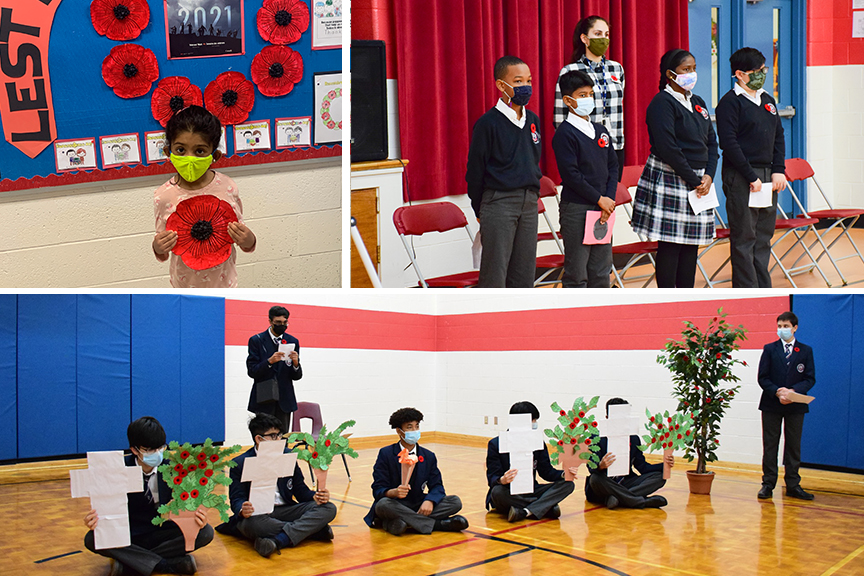 Students and staff proudly wore their poppies leading up to and on Remembrance Day. TCPS staff along with students worked together to produce meaningful Remembrance Day activities and assemblies on November 11th honouring our veterans, victims of war and those who continue to serve and protect our country.
The Pre-School Division received learning kits, historical sheets and booklets from Veterans Affairs of Canada to complete during the week leading up to Remembrance Day.
With social distancing and COVID protocols in place, the Elementary students participated in solemn assemblies that included student speeches, a dramatic presentation and a video.
All High School students, both in-class and remote, attended a touching and meaningful virtual presentation prepared by our students and teachers. Thank you to the Grade 10 History students for their very creative artistic performance.
TCPS students from all divisions observed two minutes of silence to honour the sacrifices made by our armed forces and their families.
The school collectively raised $2,201 in poppy sales this year. This donation will be presented to the Markham Veterans Association and is in addition to the donations made by students and staff directly to the Royal Canadian Legion.